Diesel Concrete Mixer With Hopper
Brief introduction:
Diesel concrete mixer also names diesel cement mixer.Diesel concrete mixer belongs to a single cylinder diesel engine powered cement mixer or concrete mixer.
This type concrete mixer is widely used for those construction projects located in areas or sites with underdeveloped power or inconvenient power lines.
Jurong Ironman has RDCM350-11DHA(JZR350A), RDCM350-11DHB(JZR350B) and RDCM500-16DH(JZR500) diesel self load mobile concrete mixers for sale.
Structure:
Diesel mobile self loading concrete mixer includes electric start diesel engine as power unit, power take off, marine gear box, reducer, hydraulic tank, hydraulic valve, hydraulic cylinder, 5mm rotating mixing drum that can mix clockwise and anti-clockwise, loading hopper.
Advantages of Diesel Concrete Mixer:
Perfect for construction areas that are lack of electricity! Suppose there is a construction project in a place with an electric shortage or construction team have to finish a construction project on time, diesel self load mixers for sale in Ironman can help you solve this kind of problem because it is longer life span water cooled diesel powered.
Thicker drum type mixer! Ironman diesel mobile concrete mixer with hopper uses either Q235 or 16Mn steel drum to mix cement, sand, aggregate to discharge mortar, concrete,even chemical materials. There are a few blades welded inside the drum. After loading cement, sand or gravel aggregate materials into the mixing drum, all the materials will be lifted to a certain height and freely fall down by its own weight.
Mobility! It has a heavy duty flange designed wheeled chassis so that you can easily drag the mixer from one site to another site.
Packing method:
The mixers are to be loaded in container with the hopper removed and packed on the top of mixing drum, and also the water tank, wheels and towing bar are removed for container loading.
Ironman self loading concrete mixers can be loaded by 3units in 20ft container, which is impossible to operate by many other concrete mixer suppliers.
Reversing Drum Concrete Mixer working method:
The drum rotates in one direction for mixing and in the opposite direction for discharging the concrete. There are two types of blades attached to the inner walls of the drum. One set drags the concrete upwards and toward the center of the mixer when the drum rotates in one direction; the second set of blades pushes the concrete toward the opening when the drum rotates in the other direction. The blades have a spiral arrangement to obtain the desired effect for discharging and mixing.
RDCM350 drum mixer, mixing one time can discharge 0. 35 cubic meters of concrete, mixing once for about 2-3 minutes, 1 hour will be able to mix 20-30 times and reaches a total of 7-11 cubic meters, that is, 17-26 tons of concrete.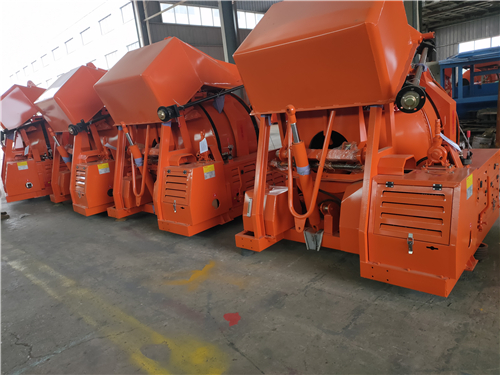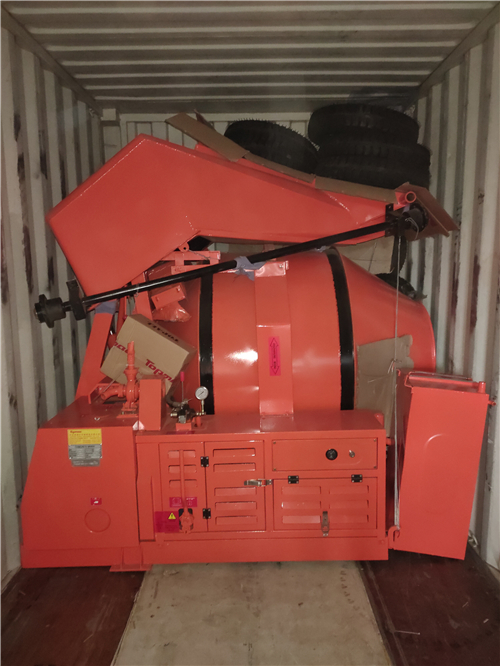 Assembling video of RDCM350(JZR350)